Garlic Bread in the Air Fryer
You will need:
4 pieces of bread with a hard crust (like ciabatta, baguette or sourdough)
2 spoons of soft butter
2 spoons of garlic, chopped fine
A pinch of salt
2 spoons of cheese, grated (Parmesan is good)
2 spoons of parsley, chopped fine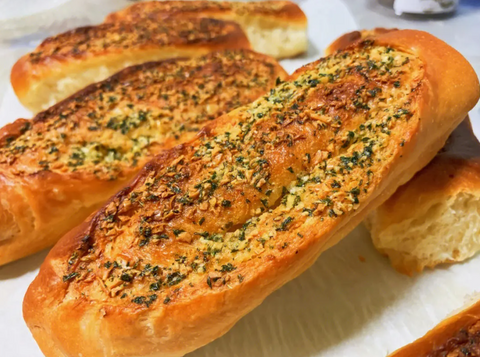 How to make it:
Mix the butter, garlic and salt in a small bowl. Spread it on one side of each piece of bread. Add cheese and parsley on top.
Turn on your air fryer to 350°F and spray some oil on the basket.
Put the bread pieces in one layer in the basket and cook for 5 minutes or until they are brown and crunchy.
Enjoy your garlic bread in the air fryer with soup, salad or pasta.
Makes: 4 servings
Time to prepare: 10 minutes
Time to cook: 5 minutes
Total time: 15 minutes